To my discerning eye, The LA Live Plaza surrounding Club Nokia looked completely schizophrenic last Thursday. To the casual observer, it appeared overrun by perky women and young girls in bedazzled mini-skirts and cowboy boots on their way to the Taylor Swift show at The Staples Center. But if you took a good look, for every 10 pairs of pink cowboy boots, there was a pair of Doc Martins. Ratios changed as you ascended the escalators to the third floor of the LA Live complex. By the time I arrived at Club Nokia it was as if I'd time traveled to London circa 1982. All signs of fashion modernity faded. it was as if someone had sun a desaturation filter. It was all black and white.
Pork pie hats, houndstooth, and three piece suits with skinny ties were the look du jour at Club Nokia last Thursday night. The occasion? The first proper concert from The Specials in over 30 years.
Every Mod and Rude Boy in Southern California (and a few celebrities to boot) were packed into Club Nokia. Famous fans in attendance included No Doubt's Gwen Stefani, husband Gavin Rossdale, Tony Kanal, Reel Big Fish singer Aaron Barrett and Los Lobos' David Hidalgo, Ghostbuster Harold Ramis, English Beat singer Dave Wakeling, and an Untouchable or two. The Nokia balcony looked like a Where's Waldo of Hollywood insiders, most of whom I did not recognize.

The night began with a rousing set from Fitz and The Tantrums. Their combination of passionate northern soul and blues got the crowd going, and kept all suitably entertained for the entire 45 minute set. As good as they were, they were but a necessary link in the chain of events that would lead us to what we were all waiting for – The Specials.

There was one more act before the band took the stage – a DJ set being spun from a slick DJ table in the photopit. I thought I had a spark of recognition as I made my way up fron to get a good look and snap a picture or two. I didn't realize it till after the show, but it wall all in the family Thursday night. The introverted DJ spinning the vintage Ska, Reggae, and Rocksteady forty fives was actually Terry Hall's son, Felix Hall, along with Neville Staple's older brother. How cool is that?

When The Specials took the stage at 9:30, the entire club erupted in cheers and the entire ground floor of the club turned into a giant dance floor. They opened with "Do the Dog," and the floor was shaking like Northridge in 1994.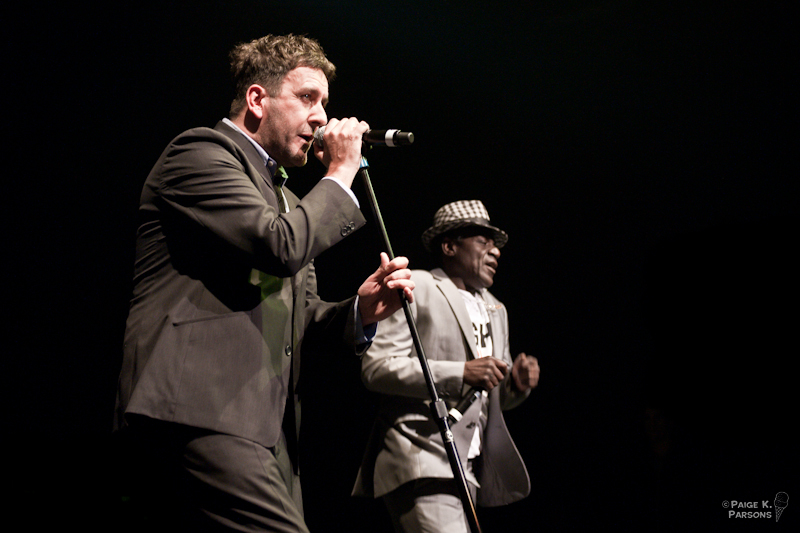 On so many levels, the band's two front men, Terry Hall and Neville Staple are the personifications of the 2 tone black and white duality. After all these years, their personalities and presence on stage haven't changed. Staple had boundless energy as he danced back and forth across the stage, beaming from ear to ear, joking easily with the audience between songs. Hall, on the other hand, was completely inside himself, often lingering at the far back of the stage, scowling as fiercely as ever. That's the Terry Hall I've been waiting to see for 30 years, and he doesn't disappoint. This is the beginning of a wonderful evening.
I've heard some comment that The Special's reunion was motivated by money. Every interview I've read confirms that this is not the case. Terry Hall is an unusually candid bloke, and the subject of his suicide attempt a few years ago seems to signal his change in attitude about a reunion.

"All I wanted to do was rekindle our friendships, because we spent such a long period together and an intense period, and then it disappeared," Mr. Hall, 51, said later of the long-estranged band's reunion, which was spurred, in part, by his suicide attempt in 2004. "That was the issue really for me: one by one gather those friends back in. That's been better than any gig, just that they're there again."
According to a recent NYT article:
For many years, Terry Hall refused to entertain the possibility of a Specials reunion and for the most part declined to discuss his time in the group. his Suicide attempt, which led to a diagnosis of bipolar disorder and an intense treatment program, found him re-evaluating his position. He reached out first to Mr. Bradbury, and then Mr. Golding, who now lives in Seattle; eventually the seven Specials rehearsed together in early 2008. But by the time the band made its first appearance, as the surprise guests at the Bestival festival later that summer, unfortunately Dammers was not on the stage but watching from the audience. Golding said he spent five years going "back and forth" with Dammers. "I feel disappointed that I didn't get him on board, but it wasn't for lack of trying," he said.

"The ironic thing is that we can do it without Jerry," Hall said. "It reminds me a bit of Syd Barrett and Pink Floyd or Brian Wilson and the Beach Boys. You get this person who's immersed in what he does but can't really work with the rest of the band."

"Every time I walk onstage with this band now," he added, "I still don't know what I'm onstage for, apart from it feels important to us and it feel important to the people who are there. That's the only reason."
The smiles, hugs, and yes — kisses — on stage Thursday were living proof of the close friendships and tight chemistry between these six gents. Lynval Golding (rhythm guitar, vocals) often shared a mic and spotlight with Hall, and when he wasn't running across stage, would cozy up to Roddy Byers (lead guitar) and the two were beaming.
Horace Panter (bass guitar) even took the spotlight for lead vocals on a tune, and it was endearing to see a silver haired John Bradbury (drums) in fine form still keeping a tight beat and sporting his classic bolo tie.

One might think I'm spending a lot of time talking about fashion, but fashion was and continues to be a core part of the 2 Tone package. "I always thought the look is as important as the music, because that's what draws you in," Mr. Hall said in a recent coffee shop interview.
Politics were always a big part of The Specials, too. In 30 years, we've come a long way with integration, but some things such as war, poverty and hatred, are unfortunately still here. There was a bit of shoving and fighting in the pit, the irony of this was painfully apparent to the band. At the height of the shoving, Staple commented that "This is 2010, not 1977. We don't need this any more," Hall took it one step further threatening "If we catch you shoving I will come out there and break your fucking head" before sardonically saying "Nah I'm just kidding. Peace and love right?"

The LA Times blog summed the show up nicely, "Amazing how a '70s ska band from across the pond can elicit this much excitement stateside. But when it's a fun, exuberant, generally life-affirming and, well, special bunch as this, it's hard not to act squirrelly. Big props to the handful of good kids who managed to climb the stage and dance."

The band played for over an hour and a half and we wished they could play forever. The Specials played a short encore that kicked off with "Ghost Town," which was shocking in it's intensity and relevance, even today. The encore concluded with "Enjoy Yourself" and just like that, the show was done.
Luckily for me, the show was over, but the evening still had a few more Specials moments. I was fortunate enough to have access to the VIP after party, which continued on for several hours after the show. A DJ was spinning tunes from the band and many folks were dancing. The No Doubt contingent made and early appearance, but quickly cloistered themselves in one of several private "booths" swathed in gold curtains. Terry Hall was a no show, but that was no surprise given his tendency towards introversion. Roddy Byers and Lynval Golding were present and accounted for. They both were incredibly friendly and seemed incredibly happy to meet up with so many old friends.
As the evening was winding down, I took the opportunity to introduce myself to Roddy. He was incredibly gracious and warm. He was really happy with the evening's show. "Sometimes you're really on, like tonight, it's just up to the guy up there, you know?" He was excited about playing Coachella the next day, but not about heading out to the desert at 10am. I asked about more dates here in the US, and he confirmed they'd be coming back through town this summer, playing Summer stage August 22nd in NYC and a handful of other dates. "We're not up for long tours any more – it's just too hard at this age."
Roddy might be feeling the aches and pains of time, but you'd never know it from his performance. There were plenty of jumps, splits, guitar swinging and general guitar bravado. Today's young bands should consider themselves blessed to be as tight, energetic, and enthusiastic as The Specials are today. If they come to a town near you later this summer, it's sure to be a must-see event, just like Thursday's show at Club Nokia.
View the full Specials at Club Nokia photoset (30 images) on flickr:
[flickr album=72157623873488366 num=10 size=Thumbnail]
Video: The Specials Perform Gangsters at Club Nokia


SETLIST: The Specials at Club Nokia April 15th, 2010
Do the Dog
Dawning of a new Era
Gangsters
It's Up to You
Monkey Man
Rat Race
Hey Little Rich Girl
Blank Expression
Doesn't Make it Alright
Stupid Marriage
Concrete Jungle
Friday Night/Saturday morning
Stereotype
Man at C&A
Message to You
Do Nothing
Little Bitch
Nite Club
Too Much Too Young
You're Wondering Now
—————
Ghost Town
Enjoy Yourself