Confession: I've been dragging my feet about writing this review for over a week. The pictures were good to go a week ago. It's those pesky words! I feel so guilty; it was an awesome show – it's not like there's nothing good to say.

All there bands were in top form.
It was a beautiful day with a rainbow.
I got to watch most of the Death Cab for Cutie show from side stage shoulder to shoulder with Davey Havok.
After, I got to chat and mingle with the bands and lots of cool folks from the SF indie music community.
As Phil would say, "Well fuckin' boo-hoo-hoo for you!"
I'm just at a loss to describe the show in a novel way. I've seen each of these three bands three times in support of their most recent releases. I've told all of you to go and see these bands many times in many reviews! (Here, here, and here.) Each of them continue to impress me with their energetic tight ensemble performances. They are three bands that I love dearly, and are consistently great live performers. They all have one thing in common – great group dynamics. When you're in the photo pit or side stage, you see a lot of the details of what's going on. The small glances, the nods, the subtle ways that they synch with each other. All these cues were constant with all three bands.
The growth in group cohesion was especially noticeable with Andrew Bird's ensemble. I'd seen them about a year ago at outside lands as they were beginning their touring as a new group, and again six months ago in February at the Fillmore. They've really come a long way from being four impressive musicians to one great band. It was Andrew Bird's birthday, and at the beginning of his set of the crowd spontaneously sang him "Happy Birthday." ("Oh, thank you for remembering," he said while blushing afterward.)
I only "saw" the first three songs of Andrew Birds set. It started to rain and I found cover backstage and listened to the rest of the set under the protection of a canopy next to a table full of hummus and falafel. Since when does it rain in Berkeley in the summer? It was a downright downpour. Normally I wouldn't mind getting a bit wet, but with all my camera eqipment, and a borrowed lens, I didn't want to take any chances on getting water damage.
I thought it might let up after a song or two, but it continued to come down for most of Ander Bird's set. Luckily the sound was quite good from backstage and I was able to enjoy the music while having a lively conversation about progressive education, the notion of choice, libertarianism, socialism, and the current state of politics in America.
On a lighter note, I was infinitely amused to discover that Death Cab has their own touring vacuum, complete with its own back stage pass. I also discovered a rainbow over the south side of the amphitheater at the end of of Andrew Bird's set.
My only complaint was that Ra Ra Riot didn't get to play as long as the other two bands. They're so passionate when they play, and seem to enjoy playing together so much. Even if (for some inexplicable reason) you don't dig their music, they're wonderful to watch whirl and twist about the stage.
I've shot several shows at The Greek in the past, but this was the first time I've shot from the tiny narrow cavern that passes as a photo pit at The Greek. I've shot from the audience many times in the past by choice – the stage at the Greek is over seven feet tall! Thank goodness for step stools and friendly security guys who like pumpkin seeds.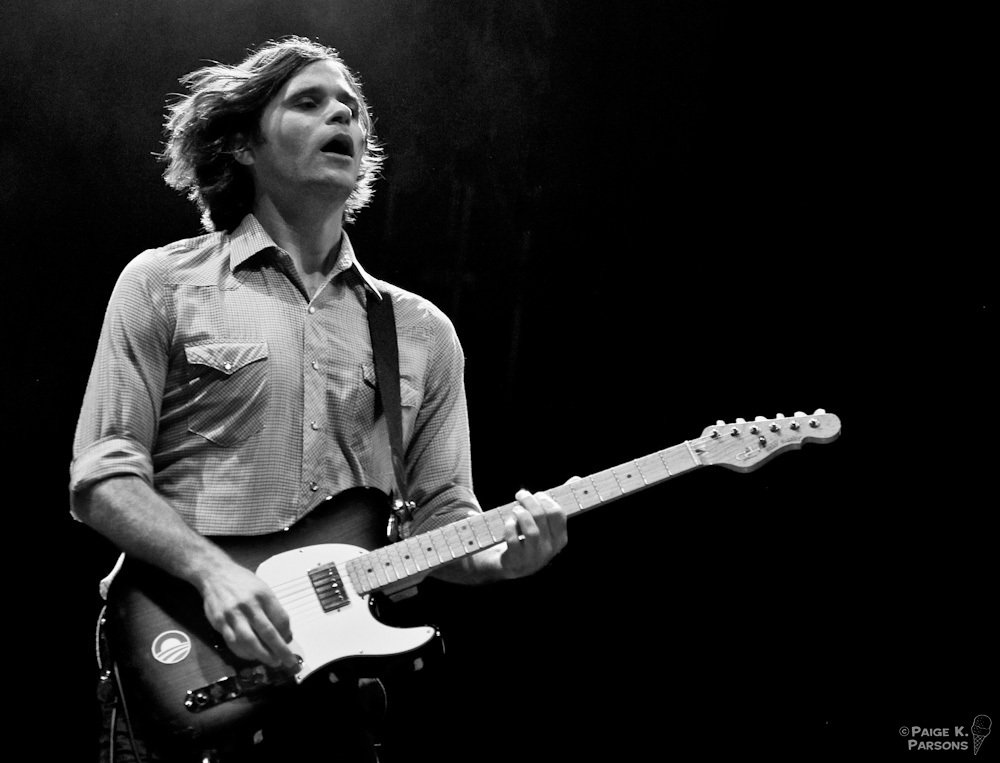 It was a 90 minute Death Cab For Cutie set. They opened with Marching Bands of Manhattan and closed as they have for the past four years with Transatlantacism. I think this was the first time I've seen them perform a show where they didn't play Title and Registration, but we did get a rocking rendition of "Little Bribes" off their new Open Door EP. The Seattle weekly predicted right after the CD release that, "I Will Posses Your Heart will become a show-stopping romp of Biblical proportions by the time the band wraps up support of the record," and they were right. Practice does make perfect, and all 8-plus minutes of IWPYH rocked.
The banter was minimal. Chris Walla took the lead by taking an applause poll of various bay area area codes. I cheered for 650.
Set List:
Marching Bands of Manhattan
Your Heart is an Empty Room
The New Year
We Laugh Indoors
Crooked Teeth
No Sunlight
My Mirror Speaks
President of What?
Summer Skin
Grapevine Fires
I Will Possess Your Heart
I Will Follow You Into the Dark
Little Bribes
Cath
A Movie Script Ending
Soul Meets Body
What Sarah Said
Long Division
The Sound of Settling
Transatlanticism