Indie/Rock Playlist: December (2012)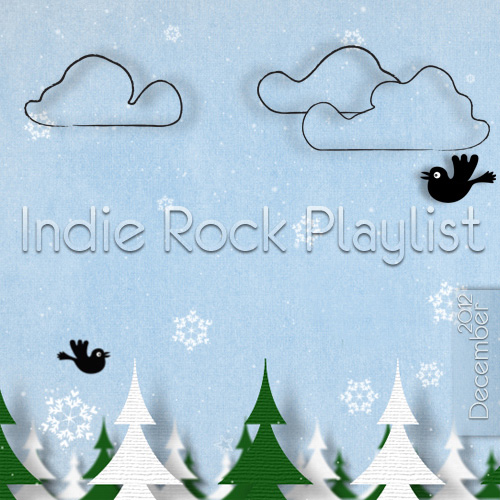 If I were moving to a remote island and I could have only one source of new music, I'd choose Criznittle's Indie/Rock Playlist.
Here's the track listing and torrent links to the current Indie/Rock Playlist: October 2012. If we had interns, we'd have them toll away the hours by linking each of the band names below to their myspace or soundcloud pages, and also to their band page on itunes, but alas, there are no eager young bodies about to do the dirty work.
Torrent download: ThePirateBay
Alternate torrent download: BTScene
Direct download: RapidShare
1. (00:02:28) Flock Of Dimes – 15
2. (00:03:28) The Kicks – 1984
3. (00:02:41) Benjamin Gibbard – A Hard One To Know
4. (00:03:04) WIN WIN – After The Wait
5. (00:02:58) The Bewitched Hands – Ah!ah!ah!ah!!
6. (00:02:58) How To Loot Brazil – Amber
7. (00:04:14) Green!Eyes – Animal Suit
8. (00:03:17) Mystery Pills – Anti-Pattern
9. (00:03:06) The Little Ones – Argonauts
10. (00:04:07) Placebo – B3
11. (00:04:48) The Magnetic North – Bay Of Skaill
12. (00:02:52) Ra Ra Riot – Beta Love
13. (00:03:24) Jennifer Left – Black Dog
14. (00:03:40) Theme Park – Bloodbuzz Ohio
15. (00:04:13) Shout Out Louds – Blue Ice
16. (00:04:37) Sizarr – Boarding Time
17. (00:03:40) Trails And Ways – Border Crosser
18. (00:03:57) Hey Rosetta! – Carry Me Home
19. (00:01:41) Set Sail – Charleston
20. (00:04:05) Jim Platts Rhythm Innovation – Cherry Blossom Girl
21. (00:03:39) The Lighthouse And The Whaler – Chromatic
22. (00:04:32) A Boy And His Kite – Cover Your Tracks
23. (00:04:10) Animal Collective – Crimson
24. (00:04:25) audiafauna – Cup Of Tea
25. (00:03:23) Bad Veins – Dancing On TV
26. (00:04:08) Frightened Rabbit – Dead Now
27. (00:02:55) Family Cave – Direction
28. (00:04:12) The Chevin – Dirty Little Secret
29. (00:03:43) GREYJOY – Distance
30. (00:04:21) Plaid Dragon – Dog Physics
31. (00:05:00) Cfit – Don't Sweat The Small Shit
32. (00:03:15) Machines Are People Too – Down & Out
33. (00:02:30) Mother Mother – Dread In My Heart
34. (00:02:46) Hey Geronimo – Dreamboat Jack
35. (00:03:24) Art Of Sleeping – Empty Hands
36. (00:03:19) Paradise – Endless Wave
37. (00:04:44) Lord Huron – Ends Of The Earth
38. (00:04:45) Ben Howard – Esmerelda
39. (00:03:16) Splash – Ever Before
40. (00:02:31) Team Genius – Everything's Alright
41. (00:03:43) The Faint – Evil Voices
42. (00:02:32) Murals – Eyes Of Love
43. (00:04:23) Young Dreams – Feels Like We Only Go Backwards
44. (00:02:58) Dutch Uncles – Flexxin
45. (00:03:16) Pacific Air – Float
46. (00:02:22) Deerhoof – Flower
47. (00:02:23) Math The Band – Four To Six
48. (00:03:50) Spector – Friday Night, Don't Ever Let It End
49. (00:07:41) Dan Deacon – Gangrimes Style
50. (00:02:26) Black Moth Super Rainbow – Gangs In The Garden
51. (00:03:33) Sea Of Bees – Get Up And Go
52. (00:03:48) NONAPHOENIX – Ghosts
53. (00:03:22) Guards – Giving Out
54. (00:04:37) Robert DeLong – Global Concepts
55. (00:04:20) Anchor & Braille – Goes Without Saying
56. (00:02:30) Desert Ships – Going Out
57. (00:02:47) General Fiasco – Gold Chains
58. (00:03:46) All The Fires – Goodbye Rock & Roll
59. (00:05:16) Luke Lalonde – Grand (Rhythymnals)
60. (00:02:53) The Color And Sound – Graves
61. (00:03:12) Concrete Knives – Greyhound Racing
62. (00:03:34) Free Energy – Hangin'
63. (00:03:32) Mai Lan – Hard Joy
64. (00:03:37) Reptile Youth – Heart Blood Beat
65. (00:03:10) Family Of The Year – Hero
66. (00:04:37) I Am Kloot – Hold Back The Night
67. (00:03:43) El Perro Del Mar – Hold Off The Dawn
68. (00:02:52) And And And – Holy Fucking Matrimony
69. (00:02:36) Thao & The Get Down Stay Down – Holy Roller
70. (00:03:40) Swim Deep – Honey
71. (00:04:35) Murder By Death – I Came Around
72. (00:02:30) The Struts – I Just Know
73. (00:02:45) New Beard – I Walk The Streets
74. (00:03:36) Titus Andronicus – In A Big City
75. (00:05:24) Stereophonics – In A Moment
76. (00:04:03) Swiss Lips – In The Water
77. (00:04:55) Foals – Inhaler
78. (00:03:08) INK – Ink Goes On
79. (00:03:46) Everything Everything – Kemosabe
80. (00:04:19) The Ruby Suns – Kingfisher Call Me
81. (00:03:09) King Friday – Known It All Along
82. (00:03:56) Freelance Whales – Land Features
83. (00:04:39) Farah Loux – Les Miserables
84. (00:05:16) Ducktails – Letter Of Intent
85. (00:04:09) Mt. Wolf – Life Size Ghosts
86. (00:03:39) Lucy Rose – Lines
87. (00:04:16) Balthazar – Lion's Mouth (Daniel)
88. (00:04:55) The Burning Of Rome – Little Piranhas
89. (00:04:24) Northern Youth – Los Angeles
90. (00:05:15) Mumford & Sons – Lover Of The Light
91. (00:03:19) Matt Costa – Loving You
92. (00:02:51) Gin Wigmore – Man Like That
93. (00:02:16) Race Horses – Mates
94. (00:03:52) alt-J – Matilda
95. (00:04:15) Sambassadeur – Memories
96. (00:03:37) Shields – Mezzanine
97. (00:02:19) Oh No! Yoko – Mimi Ashi
98. (00:04:53) The Killers – Miss Atomic Bomb
99. (00:03:31) Of Monsters And Men – Mountain Sound
100. (00:06:10) Memory Tapes – Neighborhood Watch
101. (00:04:31) Boris – Neu Years
102. (00:02:37) The Leeds – New Wave
103. (00:03:08) The Magic – Night School
104. (00:02:33) Ian Watt – Oh Oh Oh
105. (00:03:21) Stillwater Giants – One Night Away
106. (00:02:51) Moon King – Only Child
107. (00:03:27) Gypsy & The Cat – Only In December
108. (00:03:39) Max And The Moon – Out Of My Head
109. (00:03:25) Tall Ships – Phosphoresence
110. (00:03:09) Turn Off Your Television – Planets Will Collide For You
111. (00:02:50) Masters In France – Playin' With My Friends
112. (00:04:12) Menomena – Plumage
113. (00:03:21) Rah Rah – Prairie Girl
114. (00:03:57) Balthrop, Alabama – Pretty Little Bird
115. (00:05:09) Lisa Mitchell – Providence
116. (00:02:37) PAPA – Put Me To Work
117. (00:03:23) The Happy Hippo Family – R U Injured
118. (00:02:41) Lois & The Love – Rabbit Hole
119. (00:03:57) Martha Wainwright – Radio Star
120. (00:03:13) Regina Spektor – Real Love
121. (00:03:11) Stealing Sheep – Rearrange
122. (00:01:57) The Griswolds – Red Tuxedo
123. (00:02:50) New Navy – Regular Town
124. (00:03:00) IAMDYNAMITE – Riot In The Neon Light
125. (00:02:48) Between Borders – Run Run Run
126. (00:03:13) Big Tree – Runaways
127. (00:03:38) Yeasayer – Second Hand News
128. (00:03:22) School Of Seven Bells – Secret Days
129. (00:04:17) Haim – Send Me Down
130. (00:03:11) The Spinto Band – Shake It Off
131. (00:04:03) Los Campesinos! – She Crows
132. (00:03:21) Foxygen – Shuggie
133. (00:02:32) JEFF The Brotherhood – Sixpack
134. (00:03:40) Windsor Drive – Sleepwalking
135. (00:04:09) Tessera Skies – Soliloquy Of An Astronaut
136. (00:03:21) Shiny Toy Guns – Somewhere To Hide
137. (00:03:35) Paws – Sore Tummy
138. (00:03:05) Racing Glaciers – South
139. (00:03:46) Goldenboy – Starlight Town
140. (00:03:40) Serena Ryder – Stompa
141. (00:03:42) Pop Levi – Strawberry Shake
142. (00:04:37) The Lumineers – Stubborn Love
143. (00:04:02) Ben Folds – Such Great Heights
144. (00:03:19) Eugene McGuinness – Sugarplum
145. (00:03:08) Two Door Cinema Club – Sun
146. (00:03:46) Saturday Looks Good To Me – Sunglasses
147. (00:02:23) MVSCLES – Sweet n' Sour
148. (00:03:30) Keaton Henson – Sweetheart, What Have You Done To Us
149. (00:02:44) Unknown Mortal Orchestra – Swim And Sleep
150. (00:02:49) The All-About – Synth Kid
151. (00:03:06) Bridge Underwater – Take A Piece Of Me
152. (00:02:59) Alphabet Backwards – Taller
153. (00:06:19) Other Lives – Tamer Animals (Atoms For Peace Remix)
154. (00:04:13) Dog Is Dead – Teenage Daughter
155. (00:03:56) Santah – Teeth
156. (00:03:39) St. Vincent – The Antidote
157. (00:03:31) Marybell Katastrophy – The Boy Looked At Johnny
158. (00:03:06) Pear Shape – The Coca Cola Kid
159. (00:03:20) Baby Monster – The General Of Hot Desire
160. (00:02:52) House Of Bread – The Grave Visitor Pt. II
161. (00:04:52) Little Green Cars – The John Wayne
162. (00:03:05) Fort Lean – The Mall
163. (00:03:16) Strangejuice – The Picnic
164. (00:04:10) King Creosote – The Right Form
165. (00:03:22) Royal Wood – The Thick Of It
166. (00:02:53) The Oh Hellos – The Valley
167. (00:03:58) Thad Kopec – The World Was Young
168. (00:03:19) AC Newman – There's Money In New Wave
169. (00:05:09) The Joy Formidable – This Ladder Is Ours
170. (00:03:02) People Get Ready – Three Strangers
171. (00:04:32) Wild Cub – Thunder Clatter
172. (00:03:46) The Aerial – Ticking Hearts
173. (00:04:15) Husky – Tidal Wave
174. (00:02:54) Eux Autres – Tilt The Crown
175. (00:02:26) The Milk – Time For Heroes
176. (00:03:36) Two Wounded Birds – To Be Young
177. (00:03:13) Cub Scouts – Told You So
178. (00:04:29) The Cast Of Cheers – Trucks At Night
179. (00:03:23) Petit Mal – Undertow
180. (00:03:33) Sean Bones – United
181. (00:03:47) The Young Professionals – Video Games
182. (00:03:39) The Mostar Diving Club – Voyage Of Starlings
183. (00:03:28) Wilhelm And The Dancing Animals – Wake Up
184. (00:04:16) Stars – Walls
185. (00:03:53) holychild – Watching Waiting
186. (00:04:37) The Jungle Giants – Way Back When
187. (00:03:33) Alba Lua – When I'm Roaming Free
188. (00:03:40) Passion Pit – Where I Come From
189. (00:02:49) Laetitia Sheriff – Where's My I.D.
190. (00:03:05) San Cisco – Wild Things
191. (00:03:29) David Wax Museum – Will You Be Sleeping
192. (00:05:08) HAERTS – Wings
193. (00:03:41) Jayme-G – Wompychew
194. (00:03:45) Them Swoops – Work Around It
195. (00:03:12) Peace – Wraith
196. (00:03:55) Terraplane Sun – Ya Never Know
197. (00:03:11) Tim Myers – Yes!
198. (00:06:09) Get Well Soon – You Cannot Cast Out The Demons (You Might Well Dance)
199. (00:03:33) Liphemra – Young
200. (00:05:10) Jason Lytle – Your Final Setting Sun
Playing Time………: 12:07:52
Total Size………..: 1295.49 MB